We like to compare the experience of spending time in our bright and friendly attic (located in a stately old building) to being in a friendly and welcoming family home. Ours is a safe and secure environment with plenty of stimulation for your child! The specially designed corners offer childeren a bit of everything: whether they're in the mood to get creative in the studio or want to build something from scratch, put on a funny costume, practice their dancing skills, or play board games around the table, it's all there. For children who are in the mood of some alone time, we have a special little corner filled with cushions and books.

Our children love our very own "museum," where we display everything they make (always with the childs consent, of course). We explore the area together like it's a real-life museum and comment on the items exhibited. We noticed that even the children who normally might be a little shy or reserved enjoy telling others about what they have created. The children respect each other's work and take an interest in each other's stories, and even those who didn't actually make anything themselves, enjoy looking and listening.

Our building is surrounded by a large garden where the children can burn off some of their energy, while we also have a bright and beautiful vegetable garden for all to enjoy.

You'll find our after-school care in the Brediuskwartier district of Bussum, with many schools nearby. We also provide excellent parking facilities.

We pick up at the following schools:
Godelindeschool
KMS (katholieke montessorischool) Kwetternest
KMS (katholieke montessorischool) Kwakernest
Vondelschool
Pick-up days and times at schools may vary. Is your school not listed? Ask our Customer Relations department on 020 423 54 22 about the possible options.
In this location you will find Kindergarden Brediusweg
Studio

The children can really give a free rein to their fantasy and creativity here. We challenge them by offering many different types of materials including wood, bricks, clay, paint, and such things as Ecoline. So they're not only doing crafts and drawing but also designing, building, and handcrafts.

Large garden with soccer goals

Playing outdoors isn't only healthy for children, they tend to learn and play differently than indoors. Our huge garden enables the children to let off steam after school playing games together, including soccer.

Kids' kitchen

We have a real Kids' kitchen that's been adapted for a child's height. The children learn chopping, kneading, baking, and working together here. We teach them all about healthy ingredients, working independently and following recipes.
Prev
Next
Rates 2022
Rate per hour:
€ 8,27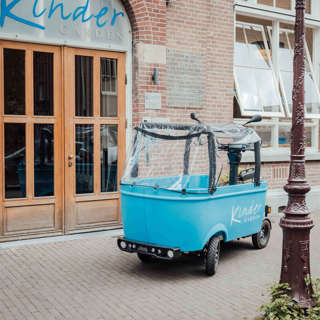 Pick up from school
Depending on distance from school with BSO bus, cargo bike or on foot.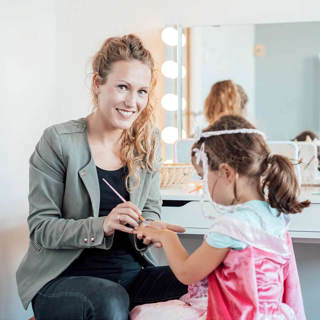 Workshops and activities
Organized by the pedagogical staff of the location.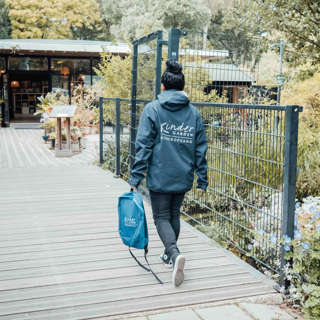 Outings
External outings during the holiday period (under supervision).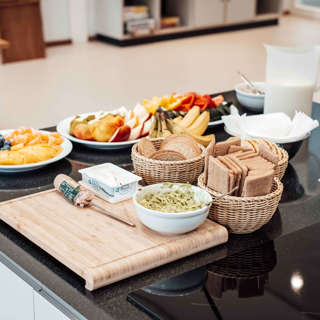 Lunch
On Wednesdays and Fridays and during holidays
LRK number and inspection report GGD
Opening hours
Monday/Tuesday/Thursday: from 3:00 pm to 6:30 pm
Wednesday/Friday: from 12:15 pm to 6:30 pm

During holidays and study days: from 7:30 am to 6:30 pm
Meet some of our team members
Voor mij is werken met kinderen elke dag een feestje; geen dag die hetzelfde is.
Meike
Pedagogisch medewerker After-school
Frequently asked questions
Do after-school care contracts include full day care during study days and/or school vacation periods?
An after-school care contract relates to care after school hours. Children are collected from the school by a member of our childcare staff when the school finishes. During school vacation periods and/or study days, children are welcome at the after-school care the whole day. The same times apply here as for the daycare center: 7.30 am - 6.30 pm. This only applies to your contracted days. Should a study day fall outside your contracted days, you can consult the location manager to see whether you can request this extra day.
What meals are available at the BSO?
At Kindergarden we give your child healthy and varied food, at various times of the day.

Healthy buffet
The healthy buffet comprises raw vegetables and fruit, yoghurt with muesli, nuts and one sandwich or two crackers with a healthy topping. We always first encourage the children to eat some raw vegetables before choosing anything else. And of course, they also get something to drink, a choice of water or warm (not hot) tea.

Lunch
Has your child's school finished early? Of course, we'll offer them a healthy lunch, including wholemeal bread with various, healthy toppings. Yoghurt is also an option. We also offer something to drink; a choice of water or warm (not hot) tea.

Snacks
At the end of the day we always offer a snack, which can comprise fruit or dried fruit, or raw vegetables and something to drink.

Hot evening meal
There are also several Kindergarden after-school care locations where the children are given a hot meal at the end of the day. That's convenient as they'll already have eaten when you collect them. Of course, we serve healthy meals that cover all the basic food groups. We always prepare these fresh meals ourselves. If we offer this service at an after-school care location it will be mentioned on the location page.
What happens with the after-school care during vacation periods?
During vacation periods, your child is welcome the whole day on your contracted days. The opening hours are then the same as the opening hours of our daycare centers: from 7.30 am to 6.30 pm. If you need extra time outside those hours you can pay for additional fifteen minute-periods at the location from 7.00 am - 7.30 am and from 6.30 pm to 7.00 pm.