After a full day of school, nothing feels better for children than to be free and able to choose whatever activities they want to do, whether it's sports and games, a creative endeavor, cooking, reading, or playing a fantasy game. That's why we offer both indoor and outdoor spaces – plus a cozy studio – at our after-school care. We provide the 8+ age group with toys and games designed specifically for older children, and since we like to encourage our childeren to provide input, we give them a say in the activities we organize. They can choose one of the following four themes from the workshop carousel: Sports and Games, Creative, Cooking, and Technology. This initiative is designed to offer additional challenges to the children and encourage them to try out new and different things. The activities we organize at our Delft Zuid after-school care include scootering, biking, skateboarding, and playing hide-and-seek. The Sports after-school care offers the following additional activities: soccer, hockey, tennis, dodgeball, softball, or using the climbing equipment in the playground.

During school vacations, we organize activities based on one of the carousel themes, as well as going on various field trips. We believe that visits to museums and nature centers are beautiful and enriching experiences for children: they promote personal development and the growth toward independence.

Our Delft Zuid location is situated on a main road, close to the town center, highway, and Delft's central railway station. Delft University of Technology is also located nearby.

We pick up at the following schools:
De Eglantier, locatie Voorhof
CBS De Waterhof (De Ark)
De Regenboog
De Rembrandtschool
Simon Carmiggeltschool
Springwijs Fuutlaan (voorheen: Simon Carmiggeltschool)
Mgr. Bekkerschool
Titus Brandsmaschool
Gabrielschool
Pick-up days and times at schools may vary. Is your school not listed? Ask our Customer Relations department on 020 423 54 22 about the possible options.
In this location you will find Kindergarden Zuid
8+ space and activities

The older after-school club children have a separate space with age-appropriate play equipment and games. It's really a great place for this group.

Separate outside space

Playing outdoors isn't only healthy, children tend to learn and play differently indoors than they do outdoors. That's why we go outdoors every day!

Studio

The children can really give a free rein to their fantasy and creativity here. We challenge them by offering many different types of materials (wood, bricks, clay, paint, and such things as Ecoline). So they're not only doing crafts and drawing but also designing, building, and handcrafts.
Prev
Next
Rates 2023
Rate per hour:
€ 9,96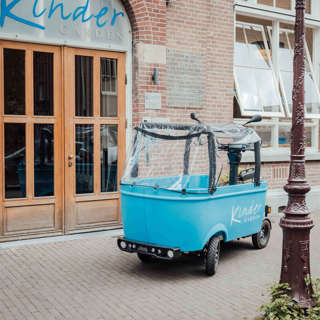 Pick up from school
Depending on distance from school with BSO bus, cargo bike or on foot.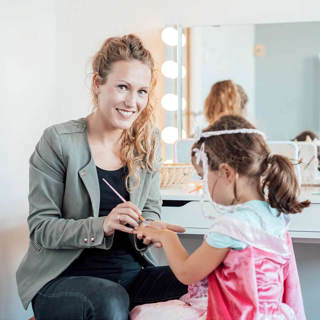 Workshops and activities
Organized by the pedagogical staff of the location.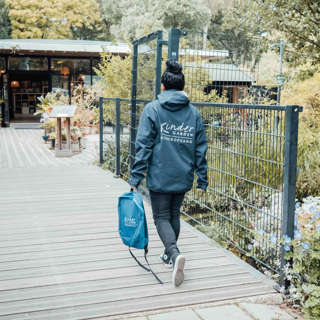 Outings
External outings during the holiday period (under supervision).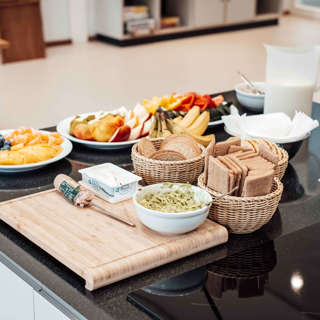 Lunch
On Wednesdays and Fridays and during holidays
LRK number and inspection report GGD
Opening hours
Monday/Tuesday/Thursday: from 2:30 pm to 6:30 pm
Wednesday/Friday: from 12:00 pm to 6:30 pm

During holidays and study days: from 7:30 am to 6:30 pm
Meet some of our team members
Frequently asked questions
Do after-school care contracts include full day care during study days and/or school vacation periods?
An after-school care contract relates to care after school hours. Children are collected from the school by a member of our childcare staff when the school finishes. During school vacation periods and/or study days, children are welcome at the after-school care the whole day. The same times apply here as for the daycare center: 7.30 am - 6.30 pm. This only applies to your contracted days. Should a study day fall outside your contracted days, you can consult the location manager to see whether you can request this extra day.
What meals are available at the BSO?
At Kindergarden we give your child healthy and varied food, at various times of the day.

Healthy buffet
The healthy buffet comprises raw vegetables and fruit, yoghurt with muesli, nuts and one sandwich or two crackers with a healthy topping. We always first encourage the children to eat some raw vegetables before choosing anything else. And of course, they also get something to drink, a choice of water or warm (not hot) tea.

Lunch
Has your child's school finished early? Of course, we'll offer them a healthy lunch, including wholemeal bread with various, healthy toppings. Yoghurt is also an option. We also offer something to drink; a choice of water or warm (not hot) tea.

Snacks
At the end of the day we always offer a snack, which can comprise fruit or dried fruit, or raw vegetables and something to drink.

Hot evening meal
There are also several Kindergarden after-school care locations where the children are given a hot meal at the end of the day. That's convenient as they'll already have eaten when you collect them. Of course, we serve healthy meals that cover all the basic food groups. We always prepare these fresh meals ourselves. If we offer this service at an after-school care location it will be mentioned on the location page.
What happens with the after-school care during vacation periods?
During vacation periods, your child is welcome the whole day on your contracted days. The opening hours are then the same as the opening hours of our daycare centers: from 7.30 am to 6.30 pm. If you need extra time outside those hours you can pay for additional fifteen minute-periods at the location from 7.00 am - 7.30 am and from 6.30 pm to 7.00 pm.