Parents who visit our location for the first time are bowled over by its beautiful garden and spacious and peaceful setting – and that's before they've even set foot in our top-floor "living room"! With each room having its own specific focus, every child will have found their favorite place here in no time.

They can relax in the living room, get creative in the studio, explore culinary delights from around the world in our kitchen, or carry out experiments in the lab. Each of the rooms offers activities based on the theme selected for that specific month, though of course children are also welcome to just hang back and relax after a busy day at school.
Our after-school club has its own yard, where we play soccer or tag or examine various small critters together. We believe school vacations are all about having fun and giving kids a sense of freedom, so while they're very welcome to join in the program, they're also free to do their own thing if they like. We offer workshops and go on daytrips together, including visits to museums and kicking around in the local playground. It's our experience that children are happiest when they have lots of activities to choose from. We recently had a reptile expert come in to tell the kids about these fascinating creatures. The experience was both educational and exhilarating to our children, not least because they were allowed to touch the animals.

We are located in Utrecht's Leidsche Rijn district, with easy connections to the A2 and A12 highways. We are easy to access by car and provide excellent parking facilities.

We pick up at the following schools:
De Oase
OBS het Zand
Montessori de Arcade
The schools where we collect can change. Collection days and times may vary depending on the school.
In this location you will find Kindergarden 't Zand
Separate after-school club garden

Playing outdoors isn't only healthy, children tend to learn and play differently indoors than they do outdoors. That's why we go outdoors every day in our own garden with its wooden play equipment and sports field with goal posts where we can play various types of sport.

Studio

The children can really give a free rein to their fantasy and creativity here. We challenge them by offering many different types of materials (wood, bricks, clay, paint, and such things as Ecoline). So they're not only doing crafts and drawing but also designing, building, and handcrafts.

How? Like this! Lab

Investigating, experimenting, and discovering; it's all possible in our laboratory! Children can immerse themselves in biology, physics, chemistry, and technology by doing experiments.

Yoga and theater

One of our childcare staff offers yoga and theater lessons. It's a fun and accessible way to get to know yoga and theater.
Prev
Next
Rates 2023
Rate per hour:
€ 9,78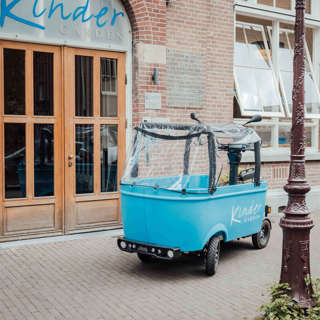 Pick up from school
Depending on distance from school with BSO bus, cargo bike or on foot.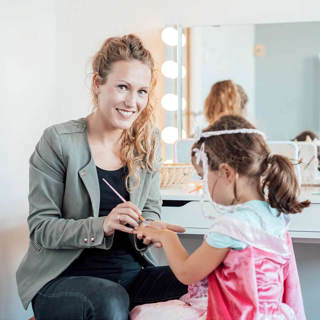 Workshops and activities
Organized by the pedagogical staff of the location.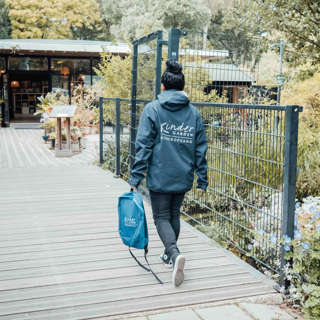 Outings
External outings during the holiday period (under supervision).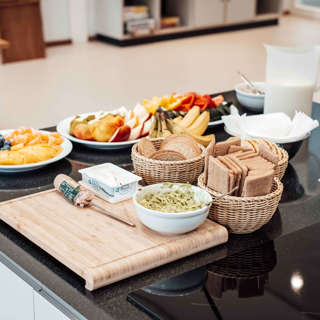 Lunch
On Wednesdays and Fridays and during holidays
LRK number and inspection report GGD
Opening hours
Monday/Tuesday/Thursday: from 2:30 pm to 6:30 pm
Wednesday and Friday: 12:30 pm to 6:30 pm

During holidays and study days: from 7:30 am to 6:30 pm
Frequently asked questions
Do after-school care contracts include full day care during study days and/or school vacation periods?
An after-school care contract relates to care after school hours. Children are collected from the school by a member of our childcare staff when the school finishes. During school vacation periods and/or study days, children are welcome at the after-school care the whole day. The same times apply here as for the daycare center: 7.30 am - 6.30 pm. This only applies to your contracted days. Should a study day fall outside your contracted days, you can consult the location manager to see whether you can request this extra day.
What meals are available at the BSO?
At Kindergarden we give your child healthy and varied food, at various times of the day.

Healthy buffet
The healthy buffet comprises raw vegetables and fruit, yoghurt with muesli, nuts and one sandwich or two crackers with a healthy topping. We always first encourage the children to eat some raw vegetables before choosing anything else. And of course, they also get something to drink, a choice of water or warm (not hot) tea.

Lunch
Has your child's school finished early? Of course, we'll offer them a healthy lunch, including wholemeal bread with various, healthy toppings. Yoghurt is also an option. We also offer something to drink; a choice of water or warm (not hot) tea.

Snacks
At the end of the day we always offer a snack, which can comprise fruit or dried fruit, or raw vegetables and something to drink.

Hot evening meal
There are also several Kindergarden after-school care locations where the children are given a hot meal at the end of the day. That's convenient as they'll already have eaten when you collect them. Of course, we serve healthy meals that cover all the basic food groups. We always prepare these fresh meals ourselves. If we offer this service at an after-school care location it will be mentioned on the location page.
What happens with the after-school care during vacation periods?
During vacation periods, your child is welcome the whole day on your contracted days. The opening hours are then the same as the opening hours of our daycare centers: from 7.30 am to 6.30 pm. If you need extra time outside those hours you can pay for additional fifteen minute-periods at the location from 7.00 am - 7.30 am and from 6.30 pm to 7.00 pm.