What about a healthy diet?
Like you, we think a healthy and varied diet is very important. We encourage your child to get used to different flavors, which is vital in developing healthy eating patterns. Our cleaning staff prepares a fresh, hot lunch every day at most of our locations. If there are no cooking facilities, meals are delivered or Kindergarden chefs prepare and deliver the food from a central location. And then we always eat at the table together – because seeing others eat encourages you to eat!
The convenience of a hot lunch
A fresh, hot lunch at lunchtime (for all children aged one and above) is of course healthy. And it's also a great solution for you as parent. After a busy working day, you can decide to make an easy evening meal every now and then. After all, most of your child's nutritional requirements have already been met for that day, including fruit and dairy, and a nutritious sandwich will be enough in the evening.' That's convenient, isn't it?
Fresh vegetable snacks for the youngest ones
We offer your child fresh fruit every day. When your child is ready for vegetable snacks, we will discuss this with you. You don't need to prepare these snacks yourself as we do that.
Home-made snacks for babies (from four months)
Coarsely pureed vegetable snacks such as cauliflower, green beans, carrot, and broccoli
One type of vegetable to get your child used to different flavors
Home-made snacks for babies (from six to eight months)
Finely chopped vegetable snacks with two flavors, possibly supplemented with potatoes, white rice, or pasta
The vegetable snacks become more hearty and coarser in structure.' In the end, we add food from that day's hot lunch, ensuring a natural transition to the hot lunch
Hot lunch from one year

As many seasonal organic ingredients as possible, in line with responsible dietary principles and covering the five major food groups.ë We pay close attention to what a one-year old child from can eat and take this into account in the menu.
Learning through eating
Did you know that we…
...have a table top cupboard in every toddler (plus) group?


This way the older children can set the table themselves and we involve them in the meal time. In addition, we create more peace in the transition from playing to eating.

...let the children help?


Also involve the older children in preparing the snacks and fruit themselves? They get their own children's knife and board, and they help, for example, with cutting the fruit, which we then eat together.

...often have our own vegetable garden?

Have our own vegetable garden at many locations? By sowing and harvesting together, your child learns where fruit and vegetables come from and learns to eat consciously. For example, we process the zucchini and basil harvested by the children in the hot lunch of that day.

Find a Kindergarden near you
Related info
What is our approach based on at our daycare centers?
Each child needs attention and guidance to develop. In 'Wereldwijs', our childcare program, we explain how we offer that attention and guidance and why we work like this. As we have developed, detailed, and recorded everything in a well-thought-out way, 'Wereldwijs' offers the perfect guidance for our childcare staff. This program ensures that, as parent, you know which development points we will be focusing on. In a nutshell, this involves providing an educational environment entirely aligned to your child's experiences. We also provide a clear daily routine and optimal group structure.
Read more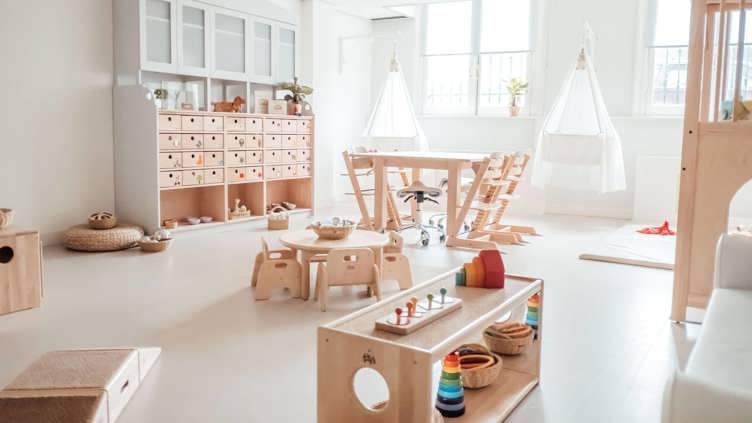 Why does Kindergarden use horizontal groups?
Did you know that a baby plays and learns with its whole body? Preferably in a calm environment? And that infants need to burn energy to develop strength and coordination? And toddlers? Yes, they mainly want to do everything by themselves. They learn to share through play and gradually start to understand their own responsibilities. In a nutshell: everything in every child's world makes an impression - and everything also has influence. And that's why our locations use horizontal groups.
Read more