25 years of Kindergarden: Two Kindergarden 'veterans' tell their story.
News
Twenty-five years of Kindergarden: what a milestone! We have been providing childcare services for 25 years now, and we give each child the love and attention they deserve. For 25 years, we've been working with heart and soul to transform Kindergarden to become what we all know as Kindergarden today. We do this at the locations and at the head office.

And what's really special is that some 22 colleagues have been working with us for over 20 years. Two of them are Suzanne Verbeek and Marie-Jeanne Hegge. What's their secret? A chat about children, colleagues and everything you encounter on this special journey.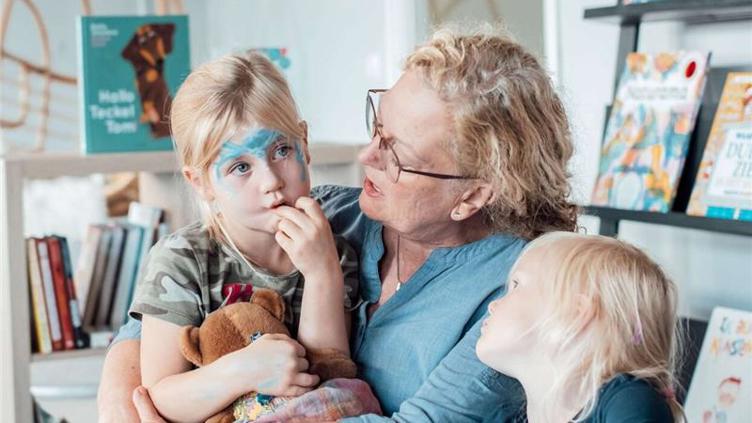 25 years of Kindergarden: 'I still go to work with a smile'
Animal Day on 4 October 1999 is etched in her memory, as that's when Suzanne Verbeek first started at the Jan Tooropstraat Kindergarden location in Weesp. Now some 23 years later, she's still 'really enjoying' her work as a childcare staff member. And she's still working at the same location, although she does switch groups every few years and has been with the toddlers again for a while.

Marie-Jeanne Hegge has worked at Kindergarden for 21 years. She started in Houten (now Draaibrug) as toddler group childcare staff member on 1 October 2001. She later switched to the after-school care: 'I started as childcare staff member for the youngest after-school care children at Kindergarden Tuibrug in May 2017.'


Flying start
Kindergarden was already making the difference some twenty years ago, explained Suzanne. 'I came from abroad with my husband and child and was looking for work. My mother saw in an advert in the local Muider newspaper that Kindergarden was looking for a baby group carer. I'd done a very broad social work education, but didn't want to work in childcare. I thought it looked really boring. But I needed work, which is why I called one of the founders, Olivier de Monchy, who actually appointed me straight away.

Once at the location, Suzanne was impressed: 'The atmosphere, the calm, the decor without plastic toys and without garish and brightly-coloured mushrooms and gnomes being pasted all over the windows. There was art on the walls and classical music. This will be fine for a year or so, I thought. I could look for other work in the meantime. I'd actually always wanted to work with children who have problems. But I lost that ambition during that year as I really enjoyed being at Kindergarden.'

Marie-Jeanne confirmed that, like now, there was a huge demand for childcare staff at the time: 'A new Kindergarden location had started in Houten and I thought it would be nice to be a part of that. I'd been a secretary, hadn't worked in childcare and had previously worked in education. I was already qualified for the after-school care, but I really wanted to work with the youngest children. I followed the EVC pathway* so I could do that. A colleague of mine is doing that now, like other colleagues have done in the past.'

When asked how it feels to work for so long at the same organisation, Marie-Jeanne answered firmly: 'Really good, because Kindergarden is an organisation that adapts and keeps developing, and gives people the opportunity to develop. Take my step from childcare to the after-school care. I worked on the pilot after-school care. We devised and developed many things that are now used at our other after-school care locations. That keeps it interesting.'

Suzanne is still amazed about the fact that she's been working at Kindergarden for so long. She was shocked in 2012 to have been working here for 12.5 years: 'Wow, so long. But every day is still so much fun for me. I still really enjoy it and as long as Kindergarden still wants me - then that's great. Looking forward to the next 25 years!'
The first Proffie
In the early days Kindergarden opened a new location approximately every other year. That changed in 2012 following the cooperation with Bright Horizons, which became Kindergarden's American mother company. According to Suzanne, growth was then very rapid after that due to the acquisition of locations. She also explained that, due to the Wereldwijs childcare programme, they started studying childcare in more depth. Suzanne continued: 'Something else happened: Americans are really keen on awards and to my huge surprise I won the Proffie that first year; the professionalism award. The parents and team all voted for me. I didn't know what had hit me. It even turned out that I had to collect my award in Orlando, which I received in a room with 1,200 people! It was unreal and so fantastic.'
People skills and more
For both of them the years at Kindergarden have flown by. Do they have any examples of what they've learned? Marie-Jeanne answered: 'I've gained so many people skills from colleagues, children and parents. For example, you learn the best way to address people. It's all based on staying calm, even if you don't agree with someone. I used to act without thinking, but you always have to bear in mind that the children are the most important thing. You should always stay civil. The calm approach is always best.'

For Suzanne, the most important thing is realising and experiencing that every child is unique: 'You have different children in your group. There's structure, a childcare programme and there are rules, but it starts with making sure you see each and every child. Every child is different: they all respond differently. I've learned never to coerce someone if, as a group, you want something. Each child should decide for themselves at their own pace. That's certainly bearing fruit in the toddler group where I've been working for a couple of years.'
Shy, four-year-old girl
'I have so many fantastic memories', added Marie-Jeanne, 'but one that stands out is when I had a very shy, four-year-old girl on my knee. And just last week - she's now eight - she starred in a film together with her friends, filmed by an after-school care colleague. She really shone! She's gained so much self-confidence with us and has developed so much. When I see that, I think it's fantastic.
I work five days a week so I'm now very much a familiar face for her. As are the other colleagues who also work five days a week. The foundations of our team are steady, which makes our work really enjoyable and it's nice for the children too.'

Suzanne found it hard to choose a memory. Every day there are moments to remember: 'I keep a scrap book and occasionally read from it - it always really makes me laugh. Particularly the infants and toddlers can be so much fun. Seeing children grow and gain confidence in you and in themselves. For me that's simply the best.'
Kindergarden colleagues
Job satisfaction all depends on having great colleagues, and that's certainly true in childcare. They've both seen so many come and go. 'This changes the team dynamics', stated Suzanne. And that's something she really enjoys: 'You can actually learn from everyone. I'm now again in a team that's really special.

Kindergarden also consciously stimulates that: this is work you do together. Did you know that two of the interns I had thirteen years ago are still colleagues of mine? I've been working in the toddler group with Anouk for years and Sanne works in the infant group. Isn't that simply fantastic?'

Marie-Jeanne then talked about her colleague Rob making Wie is de Mol (TV programme) with the older after-school care children. They guess and philosophise who it could be, whether they're wrong or right, who will be going out that week, and so on. They really enjoy it: 'This year's recordings are ready but we've still not seen it yet - it's really exciting. We're so eager to know when the first broadcast will be. A film's also been made for the Kindergarden anniversary about everything that Rob does for us. Everyone was so impressed. It makes you feel really proud.'
Any good advice from you as experienced experts...
Finally, as experienced experts, do you have any great tips for parents?
Marie-Jeanne answered: 'Be patient with your child/children and most definitely with yourself!'
Suzanne continued: 'Enjoy all those amazing, special moments with your child/children. And treasure that child in yourself. Put yourself in your child/children's shoes and dare to do silly things.