Kindergarden is a proud sponsor of Het Babyhuis (The Baby House)
News
Kindergarden has been sponsoring Het Babyhuis since 2010. We have recently appointed a new ambassador, Annemarie Bosch (Development & Quality Policy Officer). She is taking over from Dewi de Wolf (Finance & Control Manager). As a brand new ambassador, Annemarie handed a cheque to the value of some €20,000 to Het Babyhuis on Friday 31 March.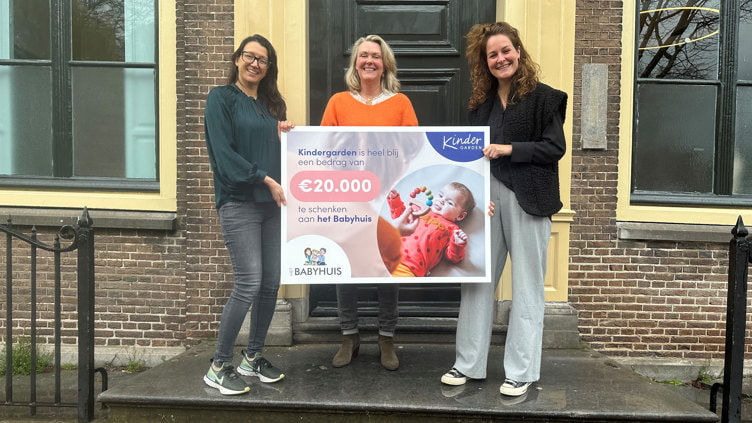 What is Het Babyhuis (The Baby House)?
Het Babyhuis provides either temporary or permanent care for babies whose parent(s) are unable to care for them. Het Babyhuis also offers accommodation and counselling to women in late pregnancy and to new mothers. This helps prevent unnecessary out-of-home placements and gives mothers and babies a chance.

Kindergarden feels a connection with this wonderful cause as well as to the philosophy of Het Babyhuis. It's a great match for our brand and for what we're all about: children's development and growth. Het Babyhuis now has three locations: Leiden, Dordrecht and Rotterdam.
How did we raise that amount last year?
Dewi: 'We raised money through sponsorship campaigns at various locations throughout the year and the management also made a donation. For instance, the locations organised summer and winter parties, as well as other campaigns and events at which the proceeds or sponsorship money were earmarked for Het Babyhuis.'
What do you do as an ambassador?
Annemarie: 'I visited Leiden for the first time on Friday to learn all about Het Babyhuis. We want to bring sponsorship to the attention of colleagues internally, but also want to focus on this externally. As an ambassador, I'll be the driving force for our fundraising activities next year. We want to draw more attention to Het Babyhuis during our Leadership days (for managers) for instance, as well as organise more events. We'll also be meeting with Het Babyhuis to find out what items they need, such as nappies or clothes, and the best way for us to collect these. But I've only just started so our actual activities will become clearer in time.'
How else does Kindergarden help Het Babyhuis?
We're working with Van Kekem Fruit in a sponsorship deal. They donated some €7,300 as a result of our partnership. When we place orders or sales via Van Kekem Fruit they make a donation to Het Babyhuis. Of course, we also want to expand these kinds of partnerships.