Welcome to our new after-school club, which was designed as a heaven for kids! Each section of our building has its own door leading to the outdoor area, which promotes order and harmony. You'll often find us in the large indoor gym, where the kids can exercise even in bad weather.

Outdoors, children have more freedom and tend to feel more independent, and our massive yard is entirely designed to facilitate this. We have a bird's nest swing and no fewer than three trampolines, along with vegetable patches where the children can grow their own veggies or create bee hotels. For our exercise, sports, and outdoor activities, we have partnered with Sportservice Zwolle, and together we offer PE (gym) classes on Tuesday and Thursday afternoons.

During school vacations, we offer a different theme every week. We might spend one week building huts, or learning interesting facts about a specific continent, and one week we did nothing but water games! During sports week, we learned parkour (free running) and during culture week we taught the kids to make graffiti and sculptures.

We are located in the Stadshagen district of Zwolle. We provide excellent parking facilities directly adjacent to our building, with easy access to the A28 highway and other main roads.

We pick up at the following schools:
De Zevensprong
Het Festival
De Morgenster
De Schatkamer
Westwijs
Kindcentrum Kasteelhoeve
Kindcentrum De Vlieger
De Wendakker
The schools where we collect can change. Collection days and times may vary depending on the school.
In this location you will find Kindergarden Frankhuizerallee
Own choice of daily activities

Children at our after-school club manage their own spare time. They can take part in three alternating activities every day. Themes include sport and play, building, crafts, games, and cooking.

Large garden

We have a large garden around the after-school club, which is separate from the daycare center garden. We also play outdoor sports including soccer.

Gymnastics lessons

Sportservice Zwolle also offers gymnastics lessons twice a week at the after-school club. Sports and exercise are actually very important and this enables the children to discover all kinds of different sports.
Prev
Next
Rates 2023
Rate per hour:
€ 9,01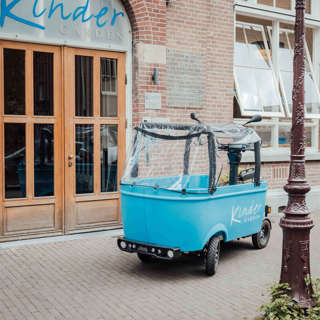 Pick up from school
Depending on distance from school with BSO bus, cargo bike or on foot.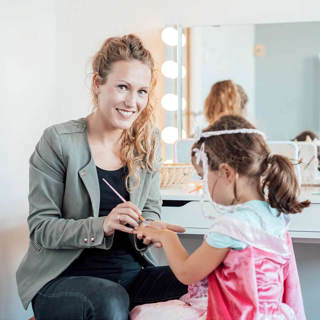 Workshops and activities
Organized by the pedagogical staff of the location.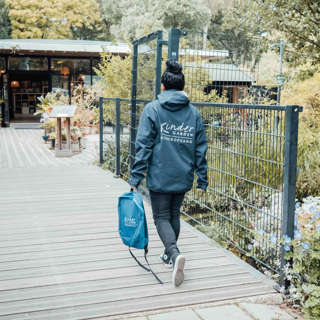 Outings
External outings during the holiday period (under supervision).
Hot lunch
On Wednesdays and Fridays and during holidays.
LRK number and inspection report GGD
Opening hours
Monday/Tuesday/Thursday: from 2:15 pm to 6:30 pm
Wednesday/Friday: from 12:15 pm to 6:30 pm

During holidays and study days: from 7:30 am to 6:30 pm
Meet some of our team members
Frequently asked questions
Do after-school care contracts include full day care during study days and/or school vacation periods?
An after-school care contract relates to care after school hours. Children are collected from the school by a member of our childcare staff when the school finishes. During school vacation periods and/or study days, children are welcome at the after-school care the whole day. The same times apply here as for the daycare center: 7.30 am - 6.30 pm. This only applies to your contracted days. Should a study day fall outside your contracted days, you can consult the location manager to see whether you can request this extra day.
What meals are available at the BSO?
At Kindergarden we give your child healthy and varied food, at various times of the day.

Healthy buffet
The healthy buffet comprises raw vegetables and fruit, yoghurt with muesli, nuts and one sandwich or two crackers with a healthy topping. We always first encourage the children to eat some raw vegetables before choosing anything else. And of course, they also get something to drink, a choice of water or warm (not hot) tea.

Lunch
Has your child's school finished early? Of course, we'll offer them a healthy lunch, including wholemeal bread with various, healthy toppings. Yoghurt is also an option. We also offer something to drink; a choice of water or warm (not hot) tea.

Snacks
At the end of the day we always offer a snack, which can comprise fruit or dried fruit, or raw vegetables and something to drink.

Hot evening meal
There are also several Kindergarden after-school care locations where the children are given a hot meal at the end of the day. That's convenient as they'll already have eaten when you collect them. Of course, we serve healthy meals that cover all the basic food groups. We always prepare these fresh meals ourselves. If we offer this service at an after-school care location it will be mentioned on the location page.
What happens with the after-school care during vacation periods?
During vacation periods, your child is welcome the whole day on your contracted days. The opening hours are then the same as the opening hours of our daycare centers: from 7.30 am to 6.30 pm. If you need extra time outside those hours you can pay for additional fifteen minute-periods at the location from 7.00 am - 7.30 am and from 6.30 pm to 7.00 pm.